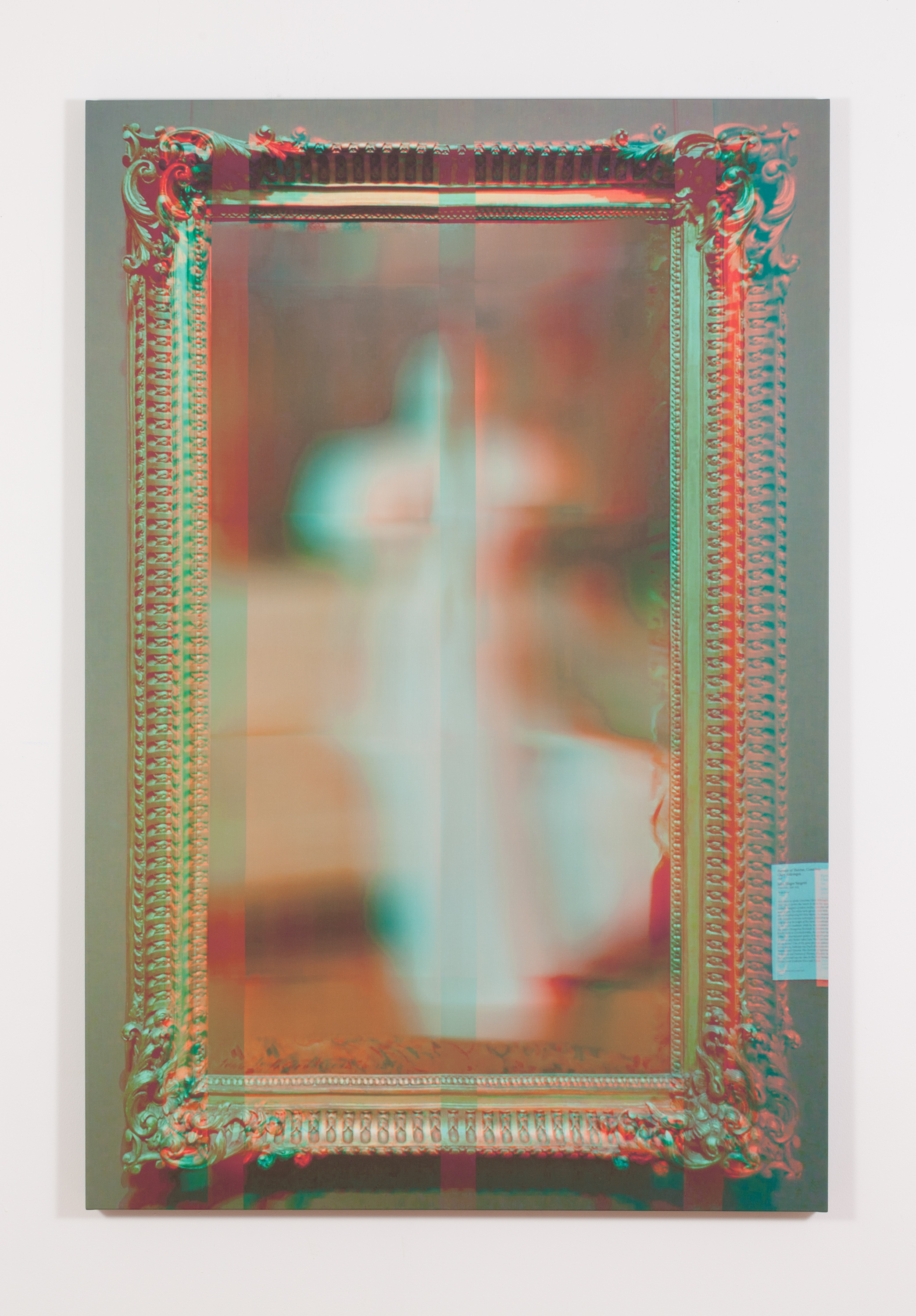 There are ripples in the smooth surfaces of Google's project to transform cultural institution and ultimately the planet into an object of perception and manipulation. The Anonymous Paintings are derived from screen captures of Google Art Project's virtual "walk-throughs" of art museums where paintings have been blurred because of copyright restrictions. We consider Google Art Project to be a platform for reconsidering institutional space and fair use. The Anonymous Paintings elide copyright law by re-imagining the negation of a censoring blur as an abstract mark available for use.
The Anonymous Paintings (2011- ) are inkjet prints stretched on wooden stretcher bars. In the process of transferring digital files into three-dimensional inkjet paintings a rudimentary stereoscopic effect applied during web browsing is transferred to the finished pieces. Anaglyphic red and cyan glasses can be worn to perceive the finished paintings as blurred compositions in 3D.
In February 2011, major international museums documented with Google's nine-eyed Street View cameras became part of the nascent Google Art Project (www.googleartproject.com). In April 2012, the platform was redesigned and the number of museum available with the "walk-through" feature expanded from 17 to 51. We sourced six Anonymous Paintings from censored paintings included in the first version of Google Art Project: three paintings were located in the Museum of Modern Art's fifth floor galleries, two at the Frick, and one at the Thyssen in Madrid. We continue to expand this counter-archive to include the new and revised censored paintings included in the updated Google Art Project.
The censored artworks are like the blurred individuals caught in the path of Google's omnipresent Street View camera where occlusion denotes an identity and subjecthood. Our Anonymous Paintings use abstraction as a code for autonomy and withdrawal from Google's comprehensive visual record.
A solo exhibition of this work, October 10- November 24, 2013 in New York City at carriage trade.